THIS SECTION IS STILL UNDER CONSTRUCTION
This section is still under construction – please check back soon.
General
What is the best way to contact you for ordering?
---
The best way to contact us for orders and inquires are via Whatsapp 055 5048355 or Call
---
Can I call your number if its urgent?
---
Due to our activites and involvment is different matters we might not be able to always answer the phone. You can reach us via Whatsapp or the Chat or email. Whatsapp: 055 5048355 Email: designsbyneo@gmail.com
---
How can I contact you if my PC is not working?
---
Check the Warranty section for details. The best way is to Contact us for warranty is by Email. Include order number, the issue and Contact information for us to contact you back for assistance. Email: designsbyneo@gmail.com
---
I like a product and I would like to order, how?
---
There is three option to order and item. 1. Website - Add the product to the card and follow the steps to complete your order 2. Whatsapp or phone - Contact us by whatsapp at 055 5048355 3. Email - Email us at designbyneo@gmail.com We will get back to you with your order details
---
How do I pay for the items here?
---
You have three payment options 1. Online payment - By Credit or Debit Card 2. Account transfer - Email us for Account details 3. Cash On Delivery - Pay us in Cash during Pickup at our location or Delivery by courier at your location
---
How long does it take to build a PC if i order today?
---
Based on your confirmation, typically we will attempt to complete the build within 2 working days. If you watched our videos you would know we do extensive cleaning, a proper build with extensive testing. We only consider the product ready when its has passed our stress tests and benchmarks. We will inform you the progress via you choice of communication if requested.
---
Can I pickup the items at your location or will you ship it to my address?
---
We offer pickup at our location. We are based in Shabia 12, Mussafah, Abu Dhabi. The Pickup must be scheduled in advance with us. Or We can ship it by courier to your location anywhere in UAE. The Shipping charge will be extra.
---
I see new components with PC combo option. Are these brand new items?
---
Yes, we provide package deal or combo deal. Depending on the selection of components, some of it might include new items purchased by us to fulfill the order. These parts will have warranty provided by the manufacturer. We will clearly differentiate new and used parts.
---
Why should I buy new items from you?
---
The few new items listed here or provided with Combo option are products we tested or tried with our PCs. When you buy these along with the PC you have the following advantage. 1. Single package deal with all the components to use the PC out of the box 2. Fair Pricing at lowest possible range. 3. Components will be tested before shipping 4. Drivers will be embedded 5. USB image will include software and drivers
---
I like your pre-build PC, but can I have some small upgrades?
---
Contact us via Whatsapp or email to discuss your options. 055 5048355 designsbyneo@gmail.com
---
Why should I buy from you and how do you justify your price?
---
Our prices are generally the same or lower than the typical genuine used market price. And if you watched our buiild videos on youtube you would know how each PCs is build. How each components are selected, cleaned, installed, configured, tested, tweaked, tuned and benchmarked before its shipped to you. We can assure you that No-one in U.A.E does it the same way. Each PC takes 2 Days to build and we try to provide an industry standard assurance on your PC. And it still doesnt count the time we spend to find reliable components from different sources to do the build. With our extensive experience, you are really lucky to get our pre-build PCs. Watch the video.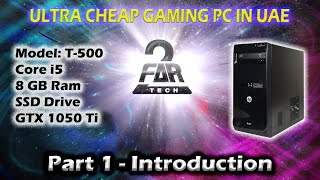 ---
Can I test the PC at your place before picking it up?
---
We provide all the tests and assurance that the PC is in working condition before setting up a pickup or Shipping. We can't provide a testing for you at our facility.
---
Will my purchase come with Scratches and Dents because its used?
---
We are trying to use components that looks good externally. We will avoid using parts with extensive scratches, faded or abused. Any serious concerns regarding the cosmetic apperances will be informed before shipping the product. We don't compromise on the performance or the life of the product.
---
Are you are a business?
---
As of now 2 Far Tech is run by two people who builds PC in spare time as a passion. We realized no-one does crazy things like us. So we decided to build some PCs and let people get some afforable gaming. We realized this loop hole when we were trying to get our kid a gaming PC for his birthday. Watch the Video.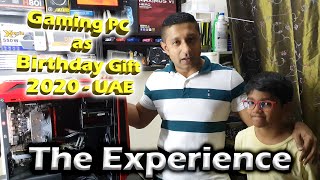 ---
---
Shipping
Can I pickup the item from your location?
---
You can pickup the item from our location based our convenience which must be agreed upon in advance.
---
Can you ship or Deliver the PC to my home?
---
We provide shipping via courier services to any place in UAE. The courier charges are extra.
---
What if I receive the Product and its not working out of the Box or Part is missing?
---
Contact us via Whatsapp 055 5048399 and provide us your order details and issue.
---
---
Warranty
What kind of warranty do I get with my purchase?
---
We offer 15 days warranty on used product as a courtesy.

---
Why don't I get a 1 year warranty on my purchase?
---
Usually used parts and components dont come with any warranty. We source these components without warranty. However we throughly test these components to offer 15 days warranty for your peace of mind. New parts purchased from us will come with the warranty provided by the manufacturer.
---
Can I get an extended warranty somehow?
---
On custom build Pc, we can offer a 6 month extended warranty at additional cost for your peace of mind. It varies based on models. Ask for extended warranty during ordering.

---
Can I extend warranty after receiving the product?
---
Extended warranty must be order before the product ships from our location.
---
What is not covered in normal and extended warranty?
---
Warranty is only applicable to the original owner. Any abuse, mishandling, accidental Damage will not be covered. Damages from Misuse, negligance, improper power source or installation location or ACT of GOD will not be covered. We will not provide warranty if the item has been tampared with Modified or Repaired. We dont provide warranty for OS related issues or 3rd party software installed on the PC. Cosmetic Damaged or Scratches will not covered in any form or warranty
---
OMG, My PC isn't working, seems like some part has failed, how can I get a warranty?
---
Relax, its just a PC. Don't Panic. Contact us via email. We will try to diagnose the issue remotely. If it requires repair, a courier delivery will be required to our location. We will evaluate the issue and try to fix it based on our convenience. After fixing we will ship the PC back to you. The shipping charges both ways to be borne by you.
---
If my pc is not working, can I bring it your location?
---
No, if the PC is not working, you have to contact us via email and get a confirmation first before we can plan on the next step.

---
---